04oct18:0019:30Objev své vnitřní dítě - Dance & Yoga
Event Details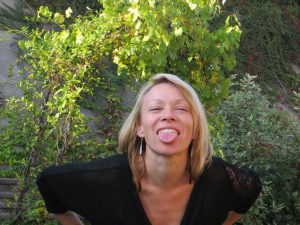 Objev své vnitřní dítě – Dance & Yoga
4.10.2020 6PM- 7:30PM
V Podkroví, Plzeňská 67, Králův Dvůr
Užijte si hravost a energi při tanci a jemné józe. Tentokráte budem hledat cestu k našemu vnitřnímu dítěti. Je to ta nejčistší složka, hluboko v naší duši.
Taneční akce se koná pouze v případě 10ti zájemců. Vzhledem ke strachu lidí z covid to vypadá, že nebude dostatek zájemců, tak by se akce nekonala.
ROZHÝBÁNÍ * UVOLNĚNÍ * RELAX * ENERGIE * RADOST
Nejdříve se jemně rozhýbeme jógou, pak si trochu si zařádíme, roztančíme tělo, uvolníme stresy a zasmějeme se s partou pohodových lidí.
Při taneční meditaci potkáme dítě uvnitř v nás začneme ho vnímat, podporovat a stávat jeho nejlepším přítelem. Odměnou nám bude velká dávka jeho spontaneity, radosti ze života, hravost, smích, láska a nevinnost.
Navázání spojení se svým vnitřním dítětem je hluboký samoléčebný proces, neboť navazujeme láskyplný vztah se sebou samými.
Nakonec si užijeme klid a uvolnění při vedené meditaci.
…"Když půjdeš více do nitra člověka, nalezneš nevinné dítě." Osho.
Lekci vede "divoška Šárka", žena plná energie, radosti a nápadů. Vystudovala psychoterapii na Karlově Univerzitě, józe se věnuje od dětství a tanec má v krvi. Její Dance&Joga je originální spojení pomalé jógy, čchi-kung, volného tance a meditace. Akci okoření esenciální olejíčky a šamanský buben.
Vhodné i pro úplné začátečníky, není potřeba něco umět předem. Pokročilé podporuji v dotažení ásán. Jen na vás bude míra zapojení, a tak každý si přijde na své!
Doporučuji: lehké sportovní oblečení, jako na jógu.
Těšte se na zajímavou akci, ze které budete ještě dlouho čerpat energii.
S láskou Šárka ALAYA.
info:https://www.facebook.com/events/s/objev-sve-vnitrni-dite-dance-y/777901816379116/
Click here to change this text
Time

(Sunday) 18:00 - 19:30