10sep(sep 10)13:0012(sep 12)22:00Sustainability festival 2021
Event Details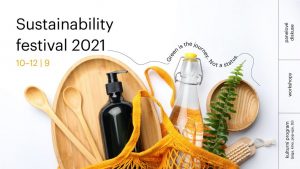 Manifesto Anděl (Ostrovského 34, Praha 5)
Although we have all dealt with the coronavirus pandemic in the past one and half years, it is equally important to talk about sustainability as a journey to protect our environment in the long run. It is a process in which each and everybody can contribute with small changes in our daily life that gradually becomes an unconscious behavior. A lifestyle that is the new normal.
This year, you can look forward to special guests from various sectors who will talk about lifestyle topics such as fashion, urban design, gastronomy, business, travel or cosmetics. We will also touch on the topic of greenwashing in different domains because a green label does not always mean sustainable and vice versa. These insightful discussions will hopefully inspire all of you to think about ways we can create a brighter and more sustainable future altogether.
Entrance: FREE OF CHARGE
If you want to make sure that you have the best place to sit, you can make a reservation here
bit.ly/2Y7Cjxr
PROGRAM:
FRIDAY:
10.9. | 13:00–22:00 Pop-up stores
10.9. | 19:00–22:00 Kick-off party
SATURDAY:
11.9. | 10:00–11:00 Yoga with DJ
11.9. | 11:00–22:00 Pop up store
11.9. | 14:00–17:00 Panel discussion
11.9. | 19:00–22:00 Afterparty
SUNDAY:
12.9. | 11:00–22:00 Pop up store
12.9. | 14:00–17:00 Panel discussion
12.9. | 19:30–22:00 Movie night
Who will be part of our panel talks?
GASTRONOMY:
• Refork
• Klaceeki
• GreeenTech
• Kokoza
• České Ghíčko
COMMUNITY DEVELOPMENT:
• Reknihy
• Knihobot
• CYRKL
FASHION:
• Les goodies
• Nosene
• FLAM label
• Pacer (pop-up only)
• Vasky
LIFESTYLE:
• Yord
• Givili
• Spacepace
URBAN DESIGN:
• Nano Energies
• mh architects
• Liko-S
• Manifesto Market
• Flower company
COSMETICS & BEAUTY:
• Malinna
• FlowBase
Time

10 (Friday) 13:00 - 12 (Sunday) 22:00