Event Details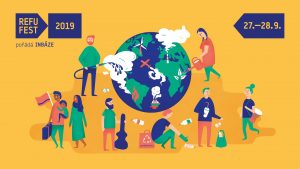 RefuFest 2019.
A unique festival that changes clima in society is coming.
The enterance is for free as every year.
On Friday of 27th September we are preparing a non-public programme for schools. On Saturday of 28th September you can look forward to unrepeatable concerts, accompanying programme, diversity of life that will blow your mind. Taste shashlik while drinking saké? No problem. Listen to groups you did not manage to listen to at summer festival? This is the right place for you! Instead of enterance payment just happiness from heard and seen. This all at unique area of Invalidovna in Prague! From now on we will provide you with regular information about actual events on our Facebook and website.
WHAT'S UP IN SEPTEMBER? #menimeklima
The RefuFest creates a space for people from all around the world to meet up and expresses solidarity with refugees. Thanks to music, dance, theatre and diverse experiences, The RefuFest offers its guests an opportunity to get to know other cultures more. The purpose of RefuFest is to show that Prague is a cosmopolitan centre where people of different religions, nationalities and cultures live together. The festival enables its visitors to go behind the borders of stereotypes, that are running in society, and fully enjoy what diversity can offer.
Every year, our festival is willing to point on how important is the openminded attitude of the Czech
majority towards foreign people for the whole society. But we have one more thing to stress this
year. It is more and more evident that when we do not give our planet what it needs, we will soon be
in the situation that no one will be able to fix. The current condition of the environment is a
significant cause of migration. According to the estimates of IOM (International Organization for
Migration), the number of people forced to leave their homes because of the impact of the
environment is growing every year. Whilst nowadays this is only a matter of 50 million people, in
2050 the number may be four times higher, according to experts.
It is time to start the war against climate change! This year's festival, which takes place from the 27th
to the 28th of September in Prague Invalidovna venue, will be about migration as well as about
climate change.
https://www.facebook.com/events/2453767691525847/
https://www.refufest.com/
Time

(Saturday) 10:00 - 0:00