16sep20:0021:30Ozvěny EKOFILMu -Děkujeme za déšť (Thank you for the rain)
Event Details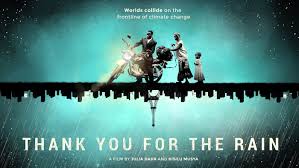 Ozvěny EKOFESTu- Čekání na déšť  (THANK YOU FOR THE RAIN)
16. 09.2019    20:00-21:30
MetroFarm, Volnočasové centrum HolešoviceŽelezničářů 204/6, Praha 7
FREE entrance
Director: Julia Dahr
Writers: Julia Dahr, Hugh Hartford
About the film
Five years ago Kisilu, a Kenyan farmer, started to use his camera to capture the life of his family, his village and the damages of climate change. When a violent storm throws him and a Norwegian filmmaker together we see him transform from a father, to community leader to an
activist on the global stage.
Před pěti lety Kisilu, farmář z Keni, vzal do ruky kameru, aby zachytil život své rodiny, své vesnice a škody způsobené klimatickými
změnami. Když jej prudká bouře svede dohromady s norským
filmařem, vidíme jeho přeměnu z otce na vůdce komunity a aktivisty na světové scéně.
Film v anglickém znění s českými titulky.
Time

(Monday) 20:00 - 21:30